The Cleveland Republican National Convention is right around the corner, and we're getting ready here at Campbell's! During one of the craziest presidential election cycles in American history, we decided to have a little fun with reminding everyone that despite political division, we can still be a united country; especially around popcorn!
Our award-winning Dichotomy Popcorn is made with pure cane brown sugar, real butter, and Ohio-Grown NON-GMO popcorn seed. And, with cheese-coated caramel on every crunchy kernel, no longer do you have to choose between Caramel or Cheezy goodness—Dichotomy is the only real candidate for BIPARTISAN POPCORN!
Click here to view the delicious-details about Dichotomy, or skip to just ordering a 2-Gallon Tin in our limited edition BIPARTISAN POPCORN tin; or order a box of Popcorn Bags!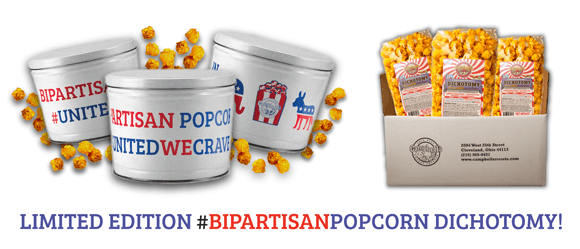 We're excited to finally be able to offer our 4-Pack Gift boxes to our online shoppers! We have a whole new "Gifts" category on our shop (which will be the home to many new products in the future), and as the featured-product, we've released (3) different box arrangements for our popular Gift Boxes: Classic, Sweet, and Savory! The candy-striped, classic design of our gift box is a decorative, fun way to send our delicious gourmet popcorn bags!
As a kick-off for the release, we're offering 10% off the boxes now until July 1st, 2016! Just use the promo code GiftBox2016 at checkout!
Enjoy!
We're pleased to announce the release of our new Campbell's Sweets Factory TV Commercial Spot! It's exciting that this project has finally come to fruition, and we're pretty happy with the results! Take a look and let us know what you think!
Here's the transcribed script of the video:
"At Campbell's Sweets, we're proud of our Cleveland heritage, proud that our story began 40 years ago with my (Jeff Campbell) dad's Karmel-Korn shop. We're continuing his legacy!
Because today, Cleveland loves Campbell's gourmet and specialty popcorn, and our fresh, hand-dipped chocolate treats. Some say our house-made cupcakes are the best in the country!
Visit our family at Campbell's Sweets in Ohio City, Lakewood, the Historic Westside Market and CampbellsSweets.com!"
"Discount… say what?!"
Yes, you read that right: thanks to our new website-update we can now offer coupon codes! As a big "welcome" to the new CampbellsSweets.com, we wanted to kick it off right by celebrating along with our customers and offering a discount of 25% off your orders, now 'til June 1st! All you need to do is use the code NewSite2016 at checkout.
Go use it in the SHOP now!
We're still really excited about the enhancements to our new Campbell's website, and we're looking forward to showing you all some new-releases soon, such as new products, fundraising options and more!
Enjoy the promo-code, and check back soon for more!
We're excited to announce that CampbellsSweets.com has undergone an update! Soon, we'll be making even more enhancements to our new Campbell's platform, so stay tuned for all kinds of exciting features, such as coupon codes, online-fundraisers & more!
For now, click-around and check out the new site; or, you can order our good 'ol Gourmet Popcorn (which hasn't been updated, by the way; still the classic recipes you know and love)!
"The Happiest Ride on Earth" made a stop at the sweetest place in Cleveland today! Thanks to the Rocket Ship Car for the visit to Campbell's this afternoon. We loved every minute!
Cupcake of the day! Raspberry cheesecake. Only at our Ohio city and West Side Market locations. #campbellssweetsfactory
Blue Hawaiian is our limited edition this weekend!#Campbellssweetfactory #keepclevelandsweet
Limited edition at out Ohio city and West Side Market locations! Classic cupcake ‪#‎campbellssweetsfactory
Red velvet, white and blue cupcakes! Find them at the Ohio city location. Happy 4th of July!#campbellssweetsohiocity
Get your dad what he really wants this Father's Day. A tin of gourmet popcorn! Better than a tie. #campbellssweetsohiocity#campbellssweetslakewood
Did you know Lemon and German chocolate cupcakes are now available everyday?
‪#‎Campbellssweetsohiocity‬ ‪#‎Campbellssweetslakewood‬