We're excited to announce that we've partnered with UberEATS as they launch in Cleveland! You can now get Campbell's Sweets delivered right to you, including some items that aren't available on our website like our delicious cupcakes, truffles and caramel apples! Plus, we're working at featuring holiday-specific items, like custom baskets around Easter, chocolate-covered strawberries at Valentine's day, and more!
(Also, the first $10 is free with code LocalFavorite for new UberEATS users!)
Go to UberEATS.com/Cleveland, type in your location, and select our Ohio City or Lakewood location! Or, just use the apps for both iPhone and Android users!
We've been working hard to get this up and running, and we're excited to finally be able to launch our ONLINE FUNDRAISERS to CampbellsSweets.com!
Our popular Bulk Fundraisers have been a staple for local organizations to raise funds over the years, and in an effort to serve a wider range of needs and demographics, this new online tool will be sure to help our customers even-more to meet their fundraising goals!
EASY TO USE
So how does it work? All you do is apply at CampbellsSweets.com/fundraising, and upon approval we send you an online fundraiser COUPON CODE that you and your team will share with your customers. No tallying order sheets, no organizing product distribution or collecting payments; just share this code, and a percentage of the orders generated with your code goes towards your fund! It's that easy!
SELL FROM ANYWHERE
With the fundraisers being through the mobile-friendly web shop at www.CampbellsSweets.com, you have the potential to reach customers anywhere in the US; and, with the wide range of products available on our online store, your customers are sure to find something to enjoy! We're adding more products all the time, so the selection, choices, and opportunities to sell and send gifts will just continue to expand!
MORE BENEFITS
We send you customer-data reports for follow up (which include names & emails so you know who your ordered and who didn't); there's absolutely zero product-handling on your part (no more distribution-days or orders going missing); there's a super easy sign-up process (just fill out the basic info at CampbellsSweets.com/Fundraising); there are many reasons to utilize our ONLINE FUNDRAISER for your school, charity or organization. Ask us for more details!
We hope you enjoy the new fundraising opportunities!
Campbell's Sweets Factory was birthed from a commitment to a dream: to Keep Cleveland Sweet!
For over 12 years since our launch in 2004 when "Campbell's Popcorn Shop" was opened in Cleveland's historic West Side Market, we've seen the evolution of our shop continue to explode! Campbell's continues to grow as our delicious popcorn is now sold in not only our own (3) retail locations, but can also be found in many grocers and retail shops in the Cleveland area: several Giant Eagle stores, the Hard Rock Rocksino in Northfield, local Heinen's locations, BA Sweetie's, CLE Hopkins Airport (in their Hudson News stores), and many more locations near you!
Our spawned from a central core-value we have at Campbell's in our commitment to producing quality, hand-made goods; a commitment that runs as deep as our commitment to our home-town city we know and love of Cleveland, Ohio. We hold it as our personal goal and responsibility to stay devoted to that idea of Keeping Cleveland Sweet!
Make sure to follow us on Social Media to stay in the loop on new items, flavors, deals and more!
Also, check back with us next month: we hope to have a lot of exciting updates in September, including the launch of a great new fundraising program. Get ready for ONLINE FUNDRAISERS!
"… WHAT?!"
Yep! Stay tuned!
Following us on social media has all kinds of perks, and we're constantly finding ways to make it worth your while to check us out!
We just uploaded this video that shows you some of the nifty features of our signature cupcake-liners. Not only are they durable, cute [and full of delicious cupcake], but did you know they also fold-down like a plate? Talk about handy!
Learn more tips, check out more deals, enter in more contests all by following and liking us on our social media pages!
Owner Jeff Campbell talked the Cleveland RNC with WKYC Channel 3 over the weekend; specifically about our "Bipartisan Edition" Dichotomy Popcorn! You can view the video below! As he says in the clip, we're going to be running very low on our limited edition Bipartisan Popcorn tins, so grab one from our online store before they're gone!
Also over the weekend, we did more updates to our shop! Now, you can order our hand-made popcorn balls, as well as our signature NON-GMO popping seeds in both white and yellow varieties! These massive kernels are used in the majority of our popcorn flavors; we're proud of the NON-GMO seed Ohio is producing and are pleased to be able to get these to our customers! We hope to add even more items to this online category of home-popping, so stay tuned for more updates!
We've got Pokemon fever at Campbell's! Check out our in-store contest through our Facebook page, and stop by for some fun prizes during your Pokemon quest!
The Cleveland Republican National Convention is right around the corner, and we're getting ready here at Campbell's! During one of the craziest presidential election cycles in American history, we decided to have a little fun with reminding everyone that despite political division, we can still be a united country; especially around popcorn!
Our award-winning Dichotomy Popcorn is made with pure cane brown sugar, real butter, and Ohio-Grown NON-GMO popcorn seed. And, with cheese-coated caramel on every crunchy kernel, no longer do you have to choose between Caramel or Cheezy goodness—Dichotomy is the only real candidate for BIPARTISAN POPCORN!
Click here to view the delicious-details about Dichotomy, or skip to just ordering a 2-Gallon Tin in our limited edition BIPARTISAN POPCORN tin; or order a box of Popcorn Bags!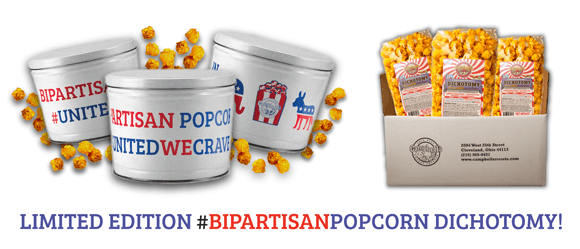 We're excited to finally be able to offer our 4-Pack Gift boxes to our online shoppers! We have a whole new "Gifts" category on our shop (which will be the home to many new products in the future), and as the featured-product, we've released (3) different box arrangements for our popular Gift Boxes: Classic, Sweet, and Savory! The candy-striped, classic design of our gift box is a decorative, fun way to send our delicious gourmet popcorn bags!
As a kick-off for the release, we're offering 10% off the boxes now until July 1st, 2016! Just use the promo code GiftBox2016 at checkout!
Enjoy!
We're pleased to announce the release of our new Campbell's Sweets Factory TV Commercial Spot! It's exciting that this project has finally come to fruition, and we're pretty happy with the results! Take a look and let us know what you think!
Here's the transcribed script of the video:
"At Campbell's Sweets, we're proud of our Cleveland heritage, proud that our story began 40 years ago with my (Jeff Campbell) dad's Karmel-Korn shop. We're continuing his legacy!
Because today, Cleveland loves Campbell's gourmet and specialty popcorn, and our fresh, hand-dipped chocolate treats. Some say our house-made cupcakes are the best in the country!
Visit our family at Campbell's Sweets in Ohio City, Lakewood, the Historic Westside Market and CampbellsSweets.com!"
"Discount… say what?!"
Yes, you read that right: thanks to our new website-update we can now offer coupon codes! As a big "welcome" to the new CampbellsSweets.com, we wanted to kick it off right by celebrating along with our customers and offering a discount of 25% off your orders, now 'til June 1st! All you need to do is use the code NewSite2016 at checkout.
Go use it in the SHOP now!
We're still really excited about the enhancements to our new Campbell's website, and we're looking forward to showing you all some new-releases soon, such as new products, fundraising options and more!
Enjoy the promo-code, and check back soon for more!
We're excited to announce that CampbellsSweets.com has undergone an update! Soon, we'll be making even more enhancements to our new Campbell's platform, so stay tuned for all kinds of exciting features, such as coupon codes, online-fundraisers & more!
For now, click-around and check out the new site; or, you can order our good 'ol Gourmet Popcorn (which hasn't been updated, by the way; still the classic recipes you know and love)!
"The Happiest Ride on Earth" made a stop at the sweetest place in Cleveland today! Thanks to the Rocket Ship Car for the visit to Campbell's this afternoon. We loved every minute!
Cupcake of the day! Raspberry cheesecake. Only at our Ohio city and West Side Market locations. #campbellssweetsfactory
Blue Hawaiian is our limited edition this weekend!#Campbellssweetfactory #keepclevelandsweet
Limited edition at out Ohio city and West Side Market locations! Classic cupcake ‪#‎campbellssweetsfactory
Red velvet, white and blue cupcakes! Find them at the Ohio city location. Happy 4th of July!#campbellssweetsohiocity
Get your dad what he really wants this Father's Day. A tin of gourmet popcorn! Better than a tie. #campbellssweetsohiocity#campbellssweetslakewood
Did you know Lemon and German chocolate cupcakes are now available everyday?
‪#‎Campbellssweetsohiocity‬ ‪#‎Campbellssweetslakewood‬