Campbell's Sweets Easy Fundraising
---
Fundraising just got SWEET!
We at Campbell's Sweets Factory want to help you with your next fundraiser, and we pride ourselves with offering Easy Fundraising options! Our gourmet popcorn has long been a staple among local organizations for Cleveland fundraisers with our BULK FUNDRAISER option, and now we're pleased to announce an even newer opportunity for raising funds with our ONLINE FUNDRAISER! Plus, if you're torn between our two options, no need to worry: you can do both simultaneously! Just use the contact form at the bottom of the page below to select the "Online Fundraiser" option but let us know in the Questions or Comments section that you're also interested in doing a Bulk Fundraiser!
Check out more details on both of our great options!
Bulk Fundraiser

Our classic BULK FUNDRAISERS are a great option for gathering mass-profits, and have been a favorite among local fundraising organizations! This Easy Fundraising option involves you and your team gathering orders for bags of our delicious gourmet popcorn; then, you will total your orders and submit one overall order with us (as long as it hits the order-minimum of 50 bags). Give us roughly a week to process your order and in no-time you'll have your popcorn to distribute to your customers!

Online Fundraiser

Use our line of products at CampbellsSweets.com without the hassle of organizing or gathering orders; all you have to do is spread the word! Once you fill out our online application below, we'll get you approved and send you an Online Fundraiser Kit which includes helpful resources as well as your own FUNDRAISER COUPON CODE! When your customers use this COUPON CODE during checkout on our website, a percentage of every sale* goes towards your fund! Talk about Easy Fundraising!
---
Great Products, Great Profits, Great Options!
Our delicious gourmet popcorn is an easy-sell for your organization, and with our Online Fundraiser option, there's no end to who you can reach with this Easy Fundraising methods: our popcorn ships nation-wide, so your customers can order from anywhere!
Bulk Fundraiser Profits
Though there is a bit-more work involved with our Bulk Fundraisers—since you have to collect the orders and distribute the product—the pay-offs are well worth it! Here's an example of some of the profits you could achieve with our Bulk Fundraising!
Dollars in Sales
Number of Bags
Profit Percentage
Your Dollars
$250 in sales
50 bags
40% ($5 price / $3 cost)
$100
$1250 in sales
250 bags
45%

($5 price / $2.75 cost)

$562.50
$2500 in sales
500 bags

50

%

($5 price / $2.50 cost)

$1250
Dollar amount and Percentages are based on our tiered costs starting at $3.00 per bag respectively, with you selling bags at our recommended price of $5.00 per bag
Online Fundraiser Profits
Raising funds with our Online Fundraiser is as simple as sharing your COUPON CODE to get word-out for your fund! Once you hit $250 of sales generated from your coupon code, your fund will get 25% of every dollar* brought in
| Dollars in Sales | Number of (3)-Pack Boxes** | Profit Percentage* | Your Dollars |
| --- | --- | --- | --- |
| $0 – $99 in sales | 1 – 7 boxes | 5% of product sales* | $0.66 – $4.64 |
| $100 – $249 in sales | 8 – 18 boxes | 15% of product sales* | $15.90 – $35.78 |
| $250 or more in sales | 19+ boxes | 25% of product sales* | $62.94+ |
*Percentage applies to product-sales only and not to shipping/handling costs
**(3)-Pack box is just an example product from those available in our online shop
---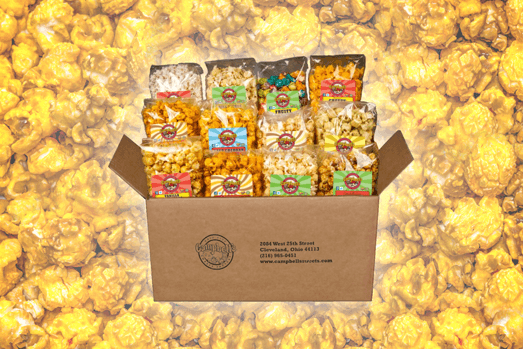 NEW: Product Sampling!
Now you can enhance your BULK FUNDRAISER even more with our new Popcorn Sample Boxes! Sampling can go a long way for increasing your fundraising sales, giving your customers the opportunity to "try before they buy"! Purchase these 12-Pack Sample Boxes at full-price that include all 12 of our Bulk Fundraiser Flavors, and get a quantity-based refund when you place your BULK FUNDRAISER order with us! These boxes are available both in our stores and our online shop, so you have plenty of options for re-filling on samples if needed!
More information is available on quantity-based discounted refunds; just inquire using the contact form below for more details on how you can utilize these sample boxes along with our BULK FUNDRAISER option!
---
With our ONLINE FUNDRAISERS on CampbellsSweets.com, we're sure there are reasons for you to get excited about this Easy Fundraising option! Our Bulk Fundraisers have been regarded by locals as one of the best fundraising ideas Cleveland has to offer, and in an effort to serve a wider range of needs and demographics, this new online tool will be sure to help our customers even-more to meet their fundraising goals!
EASY FUNDRAISING
So how does it work? All you do is apply below, and upon approval we send you an online fundraiser COUPON CODE that you and your team will share with your customers. No tallying order sheets, no organizing product distribution or collecting payments; just share this code, and a percentage of the orders generated with your code goes towards your fund! It's that easy!
SELL FROM ANYWHERE
With the fundraisers being through the mobile-friendly web shop at www.CampbellsSweets.com, you have the potential to reach customers anywhere in the US; and, with the wide range of products available on our online store, your customers are sure to find something to enjoy! We're adding more products all the time, so the selection, choices, and opportunities to sell and send gifts will just continue to expand!
MORE BENEFITS
We send you customer-data reports for follow up (which include names & emails so you know who ordered and who didn't); there's absolutely zero product-handling on your part (no more distribution-days or orders going missing); there's a super easy sign-up process (just fill out the basic info below)—there are many reasons to utilize our ONLINE FUNDRAISER for your school, charity or organization. Ask us for more details!
---
Still undecided on the option that's right for you? You can request more information using the application form below!
Fill out the application below to start some Easy Fundraising as soon as possible; or, ask for more info!
(If you're thinking you might even want to do both fundraising options at once, select the "Online Fundraiser" option but let us know in the Questions or Comments section that you're also interested in doing a Bulk Fundraiser)