Dichotomy Corn
The sweet, classic taste of Caramelcorn and the savory goodness of real-cheese flavor unite with this best-seller!
Build a Tin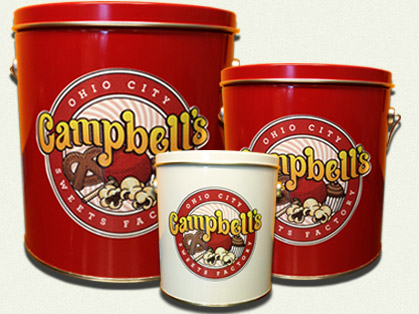 Choose a 1, 2, or 3.5 gallon gourmet popcorn tin, fill it with up to 3 unique flavors, then select a custom tin style.
Build Your Tin
---
Choose Bags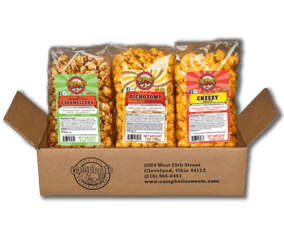 Choose an order size of 3, 6, or 12 gourmet popcorn bags, then select each flavor to customize your order.
Select Your Bags
Description
Our delicious, best-selling Dichotomy Corn is flavored with sweet, crunchy caramel and our signature cheddar cheese on every kernel for a wonderfully distinctive taste that's sweet, savory and addictive. Say "good-bye" to the traditional Chicago-style and make way for the new phenomenon: the cheese-coated caramelcorn—Dichotomy! Winner of several awards, including "Best of Cleveland" in 2007!
Additional information
| | |
| --- | --- |
| Product Attributes | Gluten Free, Non GMO Popcorn Seeds, Vegetarian, Whole Grain |
Frequently Asked Questions
How long will it take for my online order to ship?
The time it takes to fulfill an order can vary depending on it's size and complexity, however we try to ship all orders within 2-3 business days, and while we are often able to ship orders out the same day, we cannot guarantee this with every order, particularly with popcorn tins which are filled with fresh popcorn to order. During peak times, such as major holidays, it may take 1-2 business days longer to fulfill an order; keep this in mind as you plan your order. If you need us to expedite the fulfillment of your order, or are concerned about getting your order shipped by a specific date, notify us in the "Order Notes" section during checkout and we will do our very best to ship the order within your time constraints!
Do you have more information available on shipping questions?
Yes! Check out our full FAQ's Page to answer all your shipping-related questions, such as transit times, PO Box addresses, order-tracking and more!
Why do some flavors of Campbell's popcorn weigh more than others?
All of the bagged varieties that we sell on the website are our half-gallon size, which contain roughly 7-8 cups of popcorn. They range in weight from 3.8 oz to 8 oz. The weights vary depending upon the coating on the popcorn. Flavors like caramel corn, for example, weigh more due to the heavier candy coating than would cheese-corn or jalapeño popper which has a lighter coat.
What is the best way to store Campbell's popcorn?
To maintain freshness, we recommend sealing Campbell's popcorn in an air-tight Tupperware or Rubbermaid container. You can also use a standard chip-clip to seal your popcorn in its original packaging once it has been opened. However you choose to store it, do not place the popcorn in direct sunlight, near a heat source, or in a moist environment.
How long will Campbell's popcorn stay fresh?
While each flavor of popcorn is different, typically if the product remains sealed in its original packaging, it will last two months or longer. However, conditions such as the storage environment and humidity may affect the shelf life.