New tins are here !
Show your Heart for CLE with our new popcorn tin!
We've got a new tin in our roster: introducing our "I Heart CLE" tins! These new designer popcorn tins are available in-store and online now, in our 2 Gallon and 3½ Gallon sizes, fillable with any of our gourmet popcorn flavors! Order Cleveland's favorite popcorn in this great Cleveland-themed tin today!
Use the coupon code IHeartCLE18 for FREE SHIPPING on any order over $25 at CampbellsSweets.com! Cannot be combined with any other coupon or offer; code expires 9/30/2018!
Great Fall Gifts
Fall brings all kinds of opportunities to share some sweetness with your friends, students, teachers, co-workers and more; so look no further than Campbell's Sweets on finding the right gift options! With everything from our "Classic Campbell's Gift Basket" to a "Cleveland Baseball Gameday Tin", you're sure to find something to please anyone you might be looking to buy for. You can even custom-order our Popcorn Tins and Box Arrangements to cater the flavors to anyone's taste preferences and ship directly to them with quck & easy online ordering; how sweet is that?
Easy Fundraising
Fundraising season is in full swing! Many of our customers are raking in the profits and having great success with our Bulk Fundraisers and more recently with our Online Fundraisers; in some cases raising over $3000 for their organizations from both options! Using Sample Boxes can add even more benefit to your fundraising process, too! Check out our Fundraiser Page for more information on how to enroll in either (or both!) of our easy fundraising process featuring our gourmet popcorn!
Campbell's is in your local store!
Did you know you can find Campbell's popcorn in local shops and grocery stores, such as Heinen's, certain Giant Eagle locations, the CLE Hopkins Airport in the Hudson News stores, and even in local Target Stores? People everywhere in the Cleveland area are getting the opportunity to try Campbell's award winning popcorn for themselves! If you know someone that might be interested in carrying our gourmet popcorn in their store by purchasing them at wholesale pricing, or using gourmet popcorn for fundraising purposes, pass along this info so they can explore the sweet sales opportunities!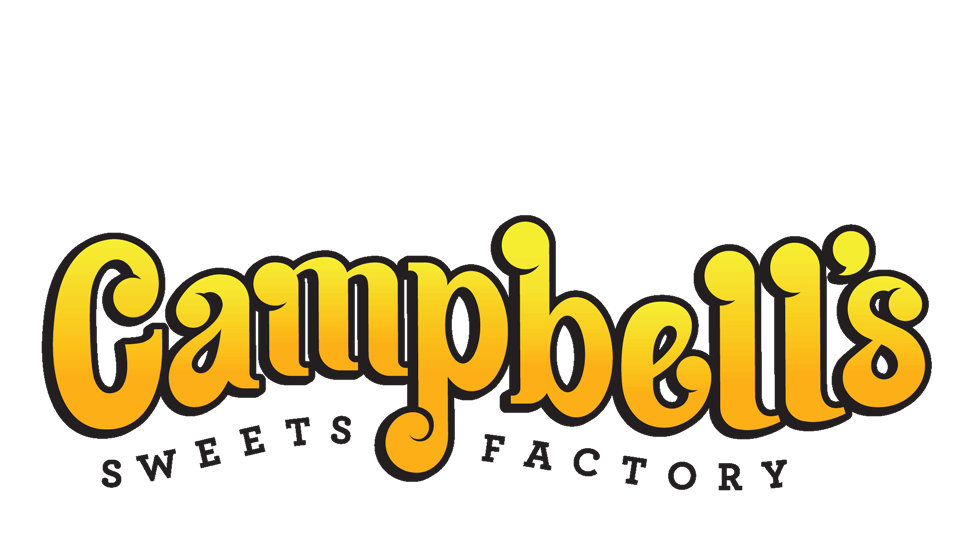 Summer's on its way out, but it's not too late to join the fun at our Campbell's Locations !
If you've missed any of the action on our social media feeds, we've been having a blast this summer with all kinds of new products & deals in our store locations! Check out this snapshot video from our friends at CitiView Cleveland as they showcase some of our great product at our Downtown Arcade location!
More details on in-store deals and products are available below!

Gourmet Pretzels
We're broadening our snacking horizons here with these delicious Gourmet Pretzel Bites! These totally munchable items are on-shelves in our store locations now in limited flavors (Ranch, White Cheddar Jalapeno, Cinnamon & Sugar and Buffalo), so pickup a bag (or several) to give them a try! They're available for a limited time only, but who knows—if they catch on, we might just have them as a regular item! Try them today!
Sampler Caddies
The new perfect gift that provides a sample of our delicious gourmet popcorn but doesn't break the bank: introducing our Favor Bag Sampler Caddies! Check out these in-store only items available to grab and go at $11.95 for (4) smaller-size bags in our handy carrier-caddy! Select flavors are available to mix and match; check them out today at all of our store locations to give them a try while we've got them in stock!
And… burritos?
Yes, burritos! Our store-receipts are now essentially useful as $1.00 off coupons for Ohio City burrito, and vice-versa! We've partnered with the local burrito-baristas in a fun deal for our customers that want to partake in local fare! Also on our store & online shop receipts, there's an opportunity to win a gift basket by answering a survey questionnaire—so don't throw those receipts out: there's no end to the deals and opportunities at Campbell's!
Fresh flavors, delicious deals, and great gifts are all here this Summer at Campbell's Sweets!
It's summertime, and we're excited to be enjoying the warm weather, outdoor activities, and all the other fun that comes along with this time of year! Check out our summer-inspired flavors on our social media, such as our Rocket Pop Cupcakes, Watermelon Cupcakes, or festive "Americorn" Popcorn! There's all kinds of new products we have lined up for this summer, so don't forget to follow our feed to stay in the loop!
Online Coupon Code
If you can't make it out to one of our store locations, there are still Summer deals to be had at CampbellsSweets.com! Use the code SweetSummer2018 for FREE SHIPPING on any online order over $30, now through the end of July 2018! Shop today and take advantage of this sweet Summer steal!
Chocolates' summer break
We love warm-weather as much as anyone, but unfortunately that means some of our items like our packs of hand-dipped sweets will no longer be able to ship! To avoid shipping melty-chocolate, we'll be removing these from our website within the next few weeks! However, if you're a local, you can still enjoy these items in-store and for delivery through UberEATS! Find out more about our deals through UberEATS on our blog!
Sweet Summer Seasonals
Have you checked out some of our new seasonal flavors for the Summer months? Now through August, we're offering two delicious seasonal popcorn flavors: S'Mores Popcorn (Marshmallow, Cocoa & Caramelcorn) and Smoky Cheddar (Spicy Cheese)! These are available both in our store locations and online in our web shop, so check them out and try them in individual bags in our box arrangements, or order as a flavor in our decorative popcorn tins!
Sweet Summer Weddings & Events
Did you know Campbell's has a bunch of great options to offer for Weddings & Events? Whether it's gourmet popcorn bars, popcorn favor bags, chocolate-trays, or our decorative cupcakes, there are plenty of ways to feature our delicious products on your big day! Check out our Weddings & Events page for even more ideas and details on our event offerings!
We've joined the Greater Cleveland Food Bank in the fight against hunger by starting a Virtual Food Drive to support the Harvest for Hunger Campaign! You can help us reach our fundraising goal by donating today and sharing with family and friends. Click here to donate any amount towards our $500 goal!
You can also help out by bringing in canned foods to any Campbell's Sweets Factory location! For every can you bring into our store, we will credit you a 1% off discount for your purchase; up to 50 cans for 50% off!*
The Greater Cleveland Food Bank works to ensure that everyone in our communities has the nutritious food they need every day. They do this by distributing food to more than 840 local food pantries, hot meal programs, shelters, mobile pantries, senior programs, and other partner agencies. The Food Bank also prepares nutritious meals in their on-site kitchen and assists eligible low income Northeast Ohioans with signing up for the SNAP program. In total, the Food Bank provided more than 55 million meals last year!
Throughout Northeast Ohio, one in six people are food insecure – meaning they may not know where their next meal will come from. Your support will help alleviate this uncertainty.
Every dollar donated will provide four nutritious meals! Help us today!
*Valid for in-store, over-the-counter/walk-in purchases only; not applicable for any special-orders, online orders, or bulk buying
Spring is bringing a bunch of great opportunities and delicious products to Campbell's Sweets!
As you start to thaw out from a long winter and shake off the hibernation blues, remember to make Campbell's one of your stops in your spring warm-up! We continue to have new in-store only flavors on a regular basis (such as Sour Candy Popcorn, Vegan Caramelcorn, Samoa Cupcakes & many other delicious "experiments")! We're constantly offering great new sweets to try, but most are available for a limited time and only in-store, so stop by to see us soon!
We're also ramped up into our fundraising season and are excited for the opportunities we're able to provide for local organizations to raise some serious cash with our delicious, gourmet popcorn! Check out our fundraising page to see how we can help you with your fundraising needs!
Game Time!
Baseball fever is setting in as we get into the spring season! Celebrate the #windians with us by grabbing a Cleveland Baseball Gameday Tin! These decorative Cleveland-Indians-themed tins are filled with gameday-inspired flavors, like our award-winning Dichotomy, crisp Campbell Jack's, our fan-favorite Beer Cheddar. These fresh-filled tins make a great center-piece for all your summer sports-gatherings! Available in store and online; order yours today!
Great Rewards
Have you stopped by our stores and joined #TeamCampbell yet? Our rewards program is a must-have for all Campbell's shoppers and there are some great opportunities for saving some serious silver on sweets! Earn (1) point for every time you spend $10 or more at each visit, and at (6) points, you'll gain a reward of $8 in store credit!  Visit us today to sign up and start earning your savings!
Don't Miss Out!
We gave away (3) giant Easter baskets for our Easter Giveaway, and we're coming up with all kinds of other fun giveaways and promotions on our social media!
Between contests with some great prizes, new flavor announcements, and the frequent updates on what our bakers are up to in coming up with delicious new cupcakes, there's no reason NOT to follow us! Don't miss out on all that's happening on our social media or at our stores!
And with it are all kinds of exciting products & offers at Campbell's!
Spring will be here before we know it, and not a moment too soon: with Easter coming up on Sunday, April 1st, we've got a bunch of news to pack into this newsletter between Easter deals, special St Patrick's day flavors, new seasonals & more!
Corned Beef Popcorn, anyone?
Yes, you read that correctly: this year for St Patrick's day, we've created a delicious, one-of-a-kind blend of savory spices to capture a flavor that will go along with all the St Paddy's parades & celebrations (and, of course, the beer). Stop by our store locations now through March 17th to try our limited-time-only "Corned Beef" Popcorn flavor! Only available while supplies last in-store, so give it a try!
Online Easter Savings
We're offering FREE SHIPPING on any online orders through all of March when you spend $30 or more online! Easter Bunny Gift Baskets and all kinds of other great gift items qualify; just use the code HippityHoppity during checkout when you have $30 or more in your cart! (Coupon expires April 1st)
For a sneak-preview on more Easter fun, be sure to follow our Social Media for new product offers, in-store deals, contests and more!
Sweet Spring Seasonals
Our next set of Popcorn Seasonal Flavors are now in stores at all locations and up in our Online Shop ready for Spring! Try our popular Mixed Cheese Popcorn, or our sweet Strawberry Lemonade! These flavors will be up through spring, so give them a try today in either our popcorn bag arrangements or filled in a gift tin in one-gallon, two-gallon, or three-and-a-half-gallon sizes!
Spring into Fundraising
Fundraising season is in full swing! Many of our customers have had great success with our Bulk Fundraisers and more recently with our Online Fundraisers; in some cases raising over $2000 for their organizations from both options! Check out our Fundraiser Page for more information on how to enroll in either (or both!) of our easy fundraising process featuring our gourmet popcorn!
It's the time of year again for hearts, flowers, candies, and obviously: popcorn!
We're getting into the Valentine's Day celebration at Campbell's! We'll of course have a bunch of special items at our locations, such as Chocolate Covered Strawberries, special Cupcake flavors, sweet popcorn seasonals & more! Visit us anytime now through Wednesday, February 14th to check out the great deals and products we're offering in our our stores, and be sure to follow our social media for even more savings, contests, & more!
Online Shoppers:
Use the code BESWEET18 at checkout for FREE SHIPPING on any GIFT ITEMS at CampbellsSweets.com/Gifts, February 1st – February 14th! There are all kinds of great gifts to choose from, so send your sweetie some goodies today!
If you've purchased a Campbell's gift card in our stores, were given one as a gift, or even won it as a raffle-prize or from a contest, you can now use the balance for online purchases!
We're now able to exchange your gift card balance for an online COUPON CODE in the same dollar value! This is a coupon code uniquely generated just for you so you can use the gift card balance for any online purchase. The coupon codes are good for a one-time use on anything in your cart!
Just use the contact form below to get us the information on your gift card, and we'll generate your own custom coupon code for your next online purchase!
---
National Popcorn Day is coming up this Friday, January 19th! In celebration, we're offering a bunch of deals in-store and online!
Visit us!
Visit our locations for buy-one-get-one offers on our bags of popcorn, free popcorn sample bags & more!
Shop online!
Use the code PPCRNDAY18 at checkout for FREE SHIPPING when you spend $25 or more on our web shop, valid Monday, January 15th – Friday, January 19th!
Follow us!
We'll be announcing even more deals & offers on our social media. Follow us for savings, contests, & more!
Here's a TV Spot we did for Cleveland 19 News!